Description
Koenig & Bauer RotaJET L – Commercial
Digital Web Printing
Printing arrays equipped with the latest print head technology ensure highest inkjet printing quality.
Intelligent low-energy dryers guarantee an exemplary energy balance – while drying at a very low temperature for a perfect lay-flat result for publishing products.
Workflow/communication: RotaNET, web based JDF workflow, with PDF preflight and correction possibilities, queue management and XML reporting with integrated Adobe-RIP-core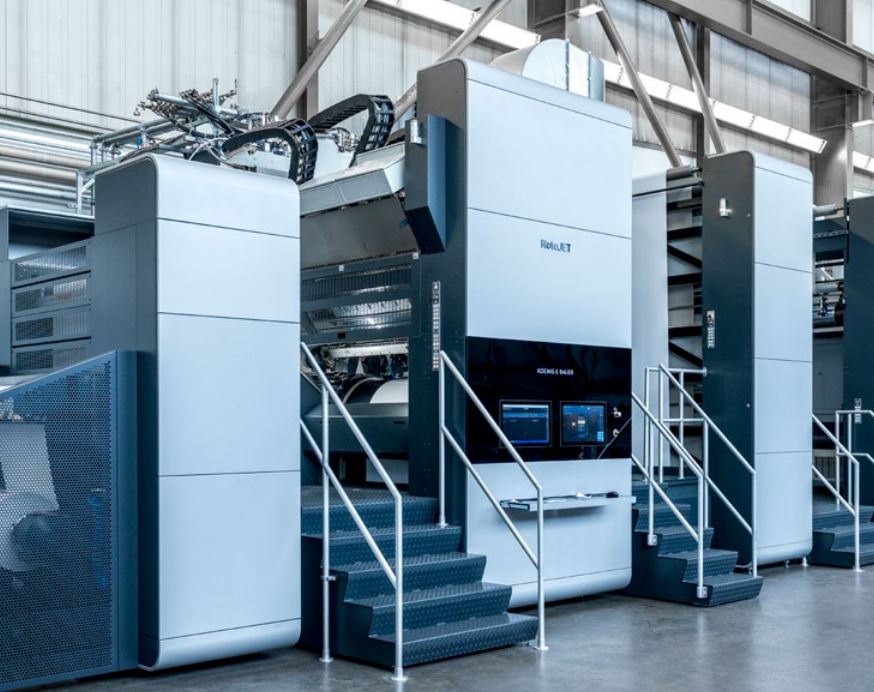 The consistent modular design of the RotaJET L systems offers a unique level of upgradeability and adaptability. The RotaJET L Series with web widths from 77 to 138 cm is one of the most future-proof high-volume inkjet printing systems on the market, serving a wide range of different application fields in commercial, publication, packaging, advertising and functional printing.
The optimal union of precision engineering, cutting-edge inkjet-head technology and RotaColor polymer inks achieves highly efficient digital printing results and – thanks to "Print@RampUp" – allows the production of good copies even during press start-up and ramp-down. Not only does this cut expensive waste, it also enables fast job changes, enhances the efficiency of online finishing systems and reduces production costs.
Flexible and upgradeable The modular design of the RotaJET L Series makes it extremely flexible. All RotaJET L presses share the same hardware platform and can be upgraded on site in one or more steps from the smallest web width of 777 mm to a maximum of 1380 mm. A later retrofit from a mono press to a 4-colour press is also possible. Reel logistics on the RotaJET L Series are also modular:
The standard RotaJET 77 comes with a unwinder. An automatic reel splicer – as used in web offset press lines – is available as an option.
Automatic reel splicers are standard on the wider versions of the L Series.
The automatic reel splicers and the reel transportation system PATRAS ensure rapid substrate changes without time-consuming make-ready procedures. This increases the output of the RotaJET L Series.
The PATRAS system is also upgradeable and can be expanded to enable fully automatically handling of substrates at the push of a button.
A central feature of the RotaJET platform is the flexibility and scalability of the XLO Workflow. If your data volume or application field should change in future, the XLO Workflow can be upgraded to meet your production demands.
All users profit from a flexible workflow system. For printers of target publications and direct mailings this is an exceptional asset.
Cutting-edge inkjet technology for top quality The central cylinder in the RotaJET delivers inkjet quality of the highest level and guarantees 100 % stability of the substrate. Inkjet is the only real non-impact printing process used in practice. Substrates are guided around the central cylinder and under the inkjet printing heads with absolute precision and evenness. Thanks to superlative piezo-electrical inkjet technology, the RotaJET L Series Commercial can yield an excellent print resolution of up to 1200 dpi. Printing heads in the arrays are stitched fully automatically.
Print quality is promoted further by the application of RotaColor Control fluid in the pre-coating station. This considerably expands the range of substrates you can use.
Intelligent low-energy dryers and an integrated cooling system facilitate the dynamic changeover from high to low levels of ink coverage. Drying at very low temperatures will give you an exemplary energy balance. The integrated cooling system reduces the temperature of the substrate efficiently and guarantees a safer and easier online finishing.
The RotaJET L Series Commercial is equipped with an interface which can connect to a very wide range of individual finishing solutions, as offered by leading post-press system suppliers.
Maximum automation for utmost efficiencyz Flying job changes increase your efficiency significantly. Carry out job changes fast and at minimum cost and print highly diverse products in a shorter time. With no time loss during those job changes you will be able to serve your customers more efficiently.
And the increase in efficiency does not stop there! Thanks to "Print@RampUp", waste during press start-up and ramp down is kept to a minimum. Online finishing systems will be used more efficiently and can be made ready for new jobs faster.
All users benefit from improvements in efficiency. With the elimination of printing plates and sleeves and the potential for individualization and personalization in inkjet printing, even the smallest of jobs can be produced economically. This will let you tackle new business models and tap new markets – making you more flexible. In newspaper printing, for example, localized editions, supplements, individual copies, historical reprints and other publications can also be produced.