Description
Sheetfed Offset
Changing all plates in under 1 minute
Simultaneous washing processes
Unique Sensoric Infeed System (DriveTronic SIS)
Highly flexible and customisable configurations of up to 10 units plus coater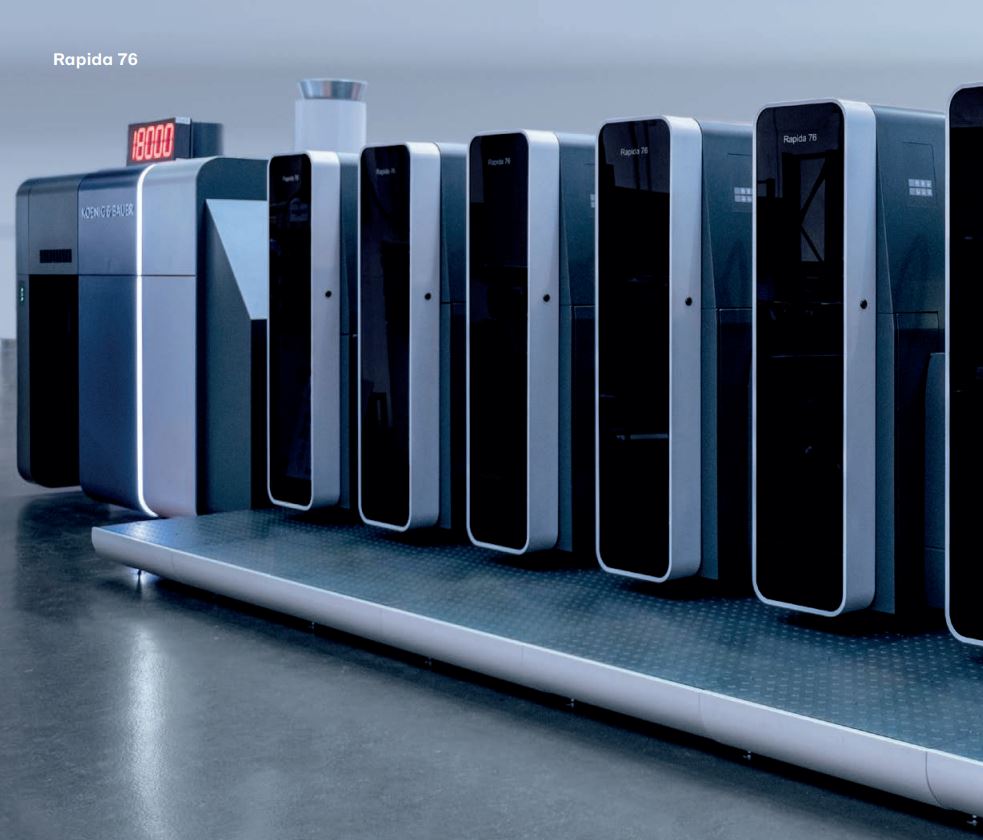 Outstanding productivity and economic efficiency
With printing speeds up to 18,000 sheets/h, the Rapida 76 is one of the most productive sheetfed offset presses in B2 format. And not only that, it's substrate flexibility is equally impressive. The standard press handles sheet thicknesses from 0.04 to 0.6 mm, and therefore covers all typical applications in commercial and packaging printing. This also makes it ideally suited for many other special applications.
The configuration options of the Rapida 76 are similarly flexible and configurations of up to ten printing and finishing units are possible. Numerous coating variants, from straightforward all-over protection to special effects and spot finishes, as well as raised press foundations or energy-saving VariDryBlue dryers, further expand the production portfolio. Fast-reacting measuring and control systems ensure consistently high print quality and reduce waste to a minimum.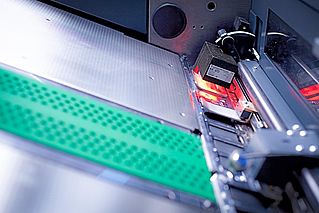 Designed to offer minimal job to job transition time, high net running speeds and measuring systems that enable maximum good sellable sheets on the floor in the B2 format is simple aim of the Rapida 76.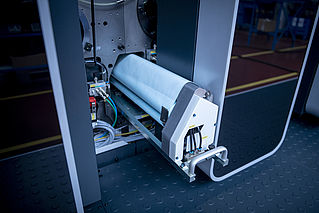 Fastest possible makeready
Job transition from last good sheet to first good sheet means more available time to print. The DriveTronic dedicated drive concept enables lightning fast makereadies. From the shaftless DriveTronic feeder, via the sidelay-free infeed DriveTronic SIS to a whole range of drive functions in the printing units, this technology extends the functionality of the whole press and promises more than just fast makeready.
With the fully automatic sequential plate changing system (SPC), all plates are changed in under one minute. The changes are performed in parallel to other makeready processes, such as the washing of blankets, rollers and impression cylinder. DriveTronic Plate Ident detects and identifies the plates as they are mounted on the press and adjusts the register even before the first sheet is printed.
Cutting-edge technology focused on your profitability
With the Rapida 76, you possess a means of production at the highest technological level. Gentle, air-cushioned sheet transport, low-curvature sheet travel and full preset capabilities – everything has been taken care of.
Additionally there is the facility to disengage unused printing units, a "print clean" function to strip the remaining ink at the end of a job in order to minimise waste and blanket washing times, plus the ErgoTronic console with its wallscreen and highly intuitive operator interface.
Peripheral equipment and production management systems round off the configuration options of the Rapida 76 and leave no productivity wish unanswered.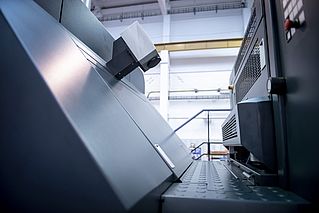 | | | |
| --- | --- | --- |
| | | |
| | | |
| | | |
| | | |
| | | |
| Fully automatic plate change FAPC | | |
| CleanTronic washing systems | | |
| | | |
| ErgoTronic console with TouchTronic interface | | |
| Quality measurement and control systems | | |
| Remote maintenance module PressSupport 24 Sheetfed | | |
| Workflow solutions for printshop networking | | |
| | | |
| Sidelay-free infeed DriveTronic SIS | | |
| | | |
| AirTronic delivery with dynamic sheet brake | | |