Description
Koenig & Bauer CutPRO X 106
Rotary Die-Cutter
Maximum performance and impressive die-cutting speeds up to 15,000 sheets/hr
Ultimate productivity thanks to state-of-the-art features from the Rapida medium-format press series
Separate process units for unrivalled flexibility
Exceptional quality thanks to register accuracies down to 15 µm and individual setting of the die-cutting pressure in 1 µm steps
Minimal waste and quality costs as the basis for significant savings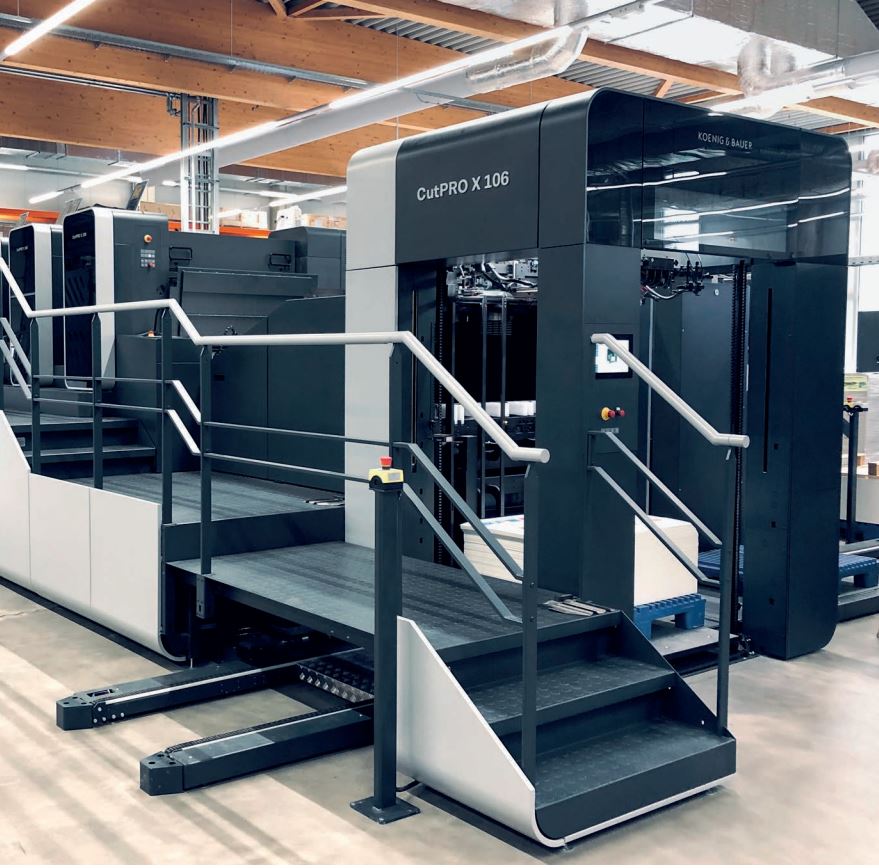 Maximum substrate flexibility with the CutPRO X 106
The CutPRO X 106 is a genuine all-rounder for applications in the fields of labels, commercial printing and packaging.
The production spectrum stretches from ultra-thin inmould films up to 0.6 mm board. That is made possible by the low-curvature sheet guiding concept of the CutPRO X platform, with double-size back cylinders and transfer drums. Aerodynamically optimised sheet guide plates lend additional reliability to sheet transport. From the DriveTronic feeder through to the delivery pile.
Depending on your planned application, you can choose from a range of special performance packages. They enable high-speed die-cutting production, also with sensitive substrates. Individually tailored, matched to particular substrates, and designed for outputs up to 15,000 sheets per hour.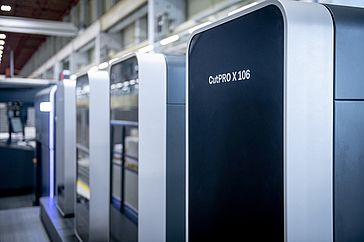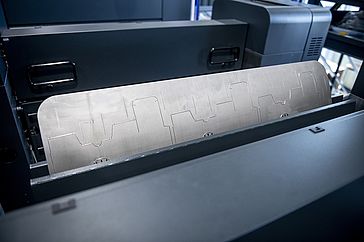 Still on makeready or already cutting? The question becomes irrelevant on the CutPRO X 106. State-of-the-art automation modules provide for extremely short makeready times compared to flat-bed die-cutters. A complete job changeover, for example, is completed in no more than 15 minutes.
Job data can be transferred via an integrated USB port, or else presetting data are loaded via CIPLinkX or LogoTronic Professional.
Sheet separation and transport into the machine is fast and extremely precise – no problem with the high-performance feeder of the CutPRO X 106. Koenig & Bauer DriveTronic dedicated drive technology ensures absolute ease of operation and the fastest possible makeready.
A die-cutting forme change is completed in approx. 2 minutes. Tool-free and convenient, following the principle of automated forme changes on the coater of a sheetfed offset press. A laser sensor scans the die-cutting forme to enable automatic presetting of the forme thickness. This eliminates the time-consuming fine alignment of the die-cutting forme which is otherwise necessary on a flat-bed machine.
By the way, all job-specific machine settings can be saved for later recall. That saves time in case of repeat jobs!
Perfect die-cutting results
The heart of the die-cutting unit is a precision-ground magnetic cylinder running in play-free bearings. The true-running accuracy of this cylinder is +/- 5 µm. Permanent magnets ensure reliable fixing of the die-cutting forme.
An additional register pin system permits fast and precise forme positioning. Lateral, circumferential and diagonal register functions provide for fine adjustment relative to the sheet. CNC-manufactured dies stand for absolute accuracy and minimum tolerances. They enable cutting of even the smallest radii and contours, which would not be possible with the steel rules of a flat-bed forme. The ultimate precision of die-cutting is also supported by the exact pressure control between the forme and back cylinders. The pressure is set from the ErgoTronic operating panel in steps of 1 µm.
Die-cutting speeds up to 15,000 sheets/hr for a broad spectrum of folding carton substrates – up to a thickness of 0.6 mm
Full job changeovers in less than 20 minutes, with saving of all job-specific setting values in the Koenig & Bauer 

LogoTronic

 management system to ensure the fastest possible makeready for repeat jobs 
Embossing in ultimate quality at the maximum machine speed of 15,000 sheets/hr – separate process units also avoid any need for a second machine pass
Separation of the process steps of die-cutting and creasing opens up new possibilities in folding carton design, e.g. tighter cutting line radii or intersecting creasing and cutting lines
Inline blanking at production speeds up to 15,000 sheets/hr for a higher net sheet output per shift
"Click & cut" register pin system for fast and exact forme positioning on the cylinder without additional manual intervention
Register accuracy down to 15 µm for maximum process quality
LiveApp family to assist machine operation and inventory management
Minimised space requirements for tool storage, e.g. die-cutting formes 
Die-cutting speeds up to 15,000 sheets/hr for a broad spectrum of commercial printing substrates – up to a thickness of 0.6 mm
Saving of all job-specific setting values in the Koenig & Bauer 

LogoTronic

 management system
Full job changeovers in less than 10 minutes, representing the fastest possible makeready for repeat jobs
High variability in terms of machine configurations and equipment options, thanks to the unit-based design principle typical of Rapida offset presses
Separate process units remove otherwise applicable limitations on die-cutting and creasing rule lengths for greater efficiency and more blanks per sheet
"Click & cut" register pin system for exact forme positioning on the cylinder without additional manual intervention
Register accuracy down to 15 µm for maximum process quality
LiveApp family to assist machine operation and inventory management
Minimised space requirements for forme storage
High performance with die-cutting speeds up to 15,000 sheets/hr for a broad spectrum of label substrates – from ultra-thin inmould films to standard wet-adhesive labels
Reel sheeter RS 106 to enable the highly efficient die-cutting of labels printed in a web-fed flexo process
Precise cutting of pre-printed reels to an exact format for full flexibility up to a sheet length of 780 mm
Register-true sheet alignment and crease-free feeding of the sensitive substrates with DriveTronc SIS, for fast makeready, minimal waste and fewer stoppages during production
Film-handling package with high-performance antistatic systems as the basis for high production speeds, stable processes and precise pile formation even with particularly demanding materials
Console-controlled Venturi air cushion sheet guiding for gentle and reliable sheet transport through the machine
Makeready times well below 5 minutes thanks to the "click & cut" register pin system for exact positioning of the process forme on the cylinder without additional manual intervention
Maximum process quality with register accuracy down to 15 µm
Perfect pile quality – "picture-perfect pallets" – allows immediate further processing of the die-cut sheets, without additional manual intervention, as a decisive benefit in the production of inmould labels
Outstanding process efficiency – preparation of piles with up to 1,000 sheets allows seamless further processing on the blanker without additional handling
Saving of all job-specific setting values in the Koenig & Bauer 

LogoTronic

 management system
LiveApp family to assist machine operation and inventory management
Minimised space requirements for forme storage